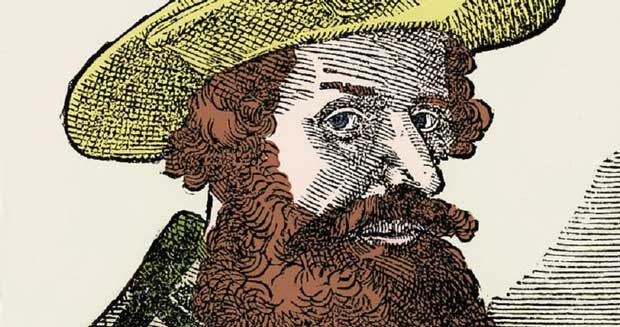 One of the prominent Greek figures to contribute to mathematics was Claudius Ptolemy. Besides being a mathematician he was also a writer, poet, astronomer, astrologer and geographer. He wrote numerous scientific treatises which would later prove to be beneficial for Islamic, European and Byzantine scientists. One of them was based on astronomy titled, Almagest. Similarly, he wrote treatises on various subjects including geography, horoscopic astrology and Aristotelian philosophy.
Much of Ptolemy's life still remains unknown to us but what could have been discovered was that he was born sometime between 100 AD – 170 AD. Claudius is a Roman name hence it can be easily deduced that he was a Roman citizen and lived in the city of Alexandria under the Roman rule of Egypt which he himself mentioned in Koine Greek. He was also part Greek given his other more noted name, Ptolemy.
According to a 14th century astronomer, Theodore Meliteniotes, Ptolemy could have been born in Ptolemais Hermiou but the speculation remains uncorroborated. Many historians believe that he did not live anywhere but Alexandria and died sometime around 168 AD. It is said that Ptolemy was ethically Greek similar to other most notable scholars of his age who employed Greek as their medium of writing. Some claimed that he was a Hellenizzed Egyptian and others that he was "the Upper Egyptian".
The aforementioned treatise Almagest holding a wealth of information on astronomy was the only surviving ancient treatise on the subject. In those times multifarious techniques were devised to calculate the astronomical phenomena. For instance, Babylonian had used arithmetical formulas to accomplish the task while Greek astronomers calculated celestial motions by relying upon geometric models. However, Ptolemy claimed that his astronomical calculation method was inspired by predecessors spanning several centuries earlier. The geometrical models that he derived, many believed that were solely based on astronomical observation. He used tables to calculate the position of the planets in the future or past.
Ptolemy's astronomical treatise also includes a star catalogue based on a version of Hipparchus's catalogue. The constellation system described in those catalogues remained a genuine guiding text on astronomy in several empires and acted as foundation for modern system of constellation. The preservation of Almagest was credited to Arabs for translating the text in Arabic manuscript. Afterwards, it was translated into Latin in the twelfth century.
Aside from Almagest, Geography was another one of his notable compilation of geographical coordinates. Since man had not discovered the entire globe, only a part of Roman Empire was featured in that treatise. His work was influenced by Marinos of Tyre and other geographers of Rome and Persia. The first half of the book is dedicated to the discussion of collected and methods applied to sort the date. He then employed the coordinates to different locations in a grid that covered the globe. Another major contribution of Ptolemy to geography was that he instructed on the method of devising maps on both micro and macro scale.
Astrology is another one of the fields that Ptolemy explored and due to that he had been titled "a pro-astrological authority of the highest magnitude". In his astrological work, Apotelesmatika, he attempted to apply horoscopic astrology to Aristotelian natural philosophy. Apotelesmatika translates as 'Astrological Outcomes' and in Greek it was named Tetrabiblos which means 'Four Books' because his work was in four parts. Ptolemy's Tetrabiblos hold such a prominent position in astrological studies for his description of the art of astrology.